Austen table and 6 chairs
Extending dining table and 4 chairs.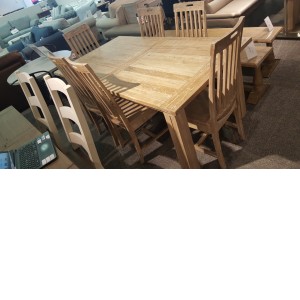 FURTHER REDUCED
AVAILABILITY
In Stock
DELIVERY
This item is in stock and we aim to deliver
within 2 weeks or click and collect the same day!
Delivery to your door: £49
Collection: FREE
---
Order direct: 01642 230 030
Please note this item may not be brand new, there may be imperfections and we recommend contacting us to discuss.
For further information, please contact the store directly on: 01642 230 030
Middlesbrough Outlet
This item is at our Middlesbrough Outlet store, please contact the store before you visit to check it is still available.
How to find us
Newport Road
Middlesbrough
TS1 5JQ
Tel: 01642 230030
Opening Hours
| | |
| --- | --- |
| MONDAY | 9.30am - 5.30pm |
| TUESDAY | 9.30am - 5.30pm |
| WEDNESDAY | 9.30am - 5.30pm |
| THURSDAY | 9.30am - 5.30pm |
| FRIDAY | 9.30am - 5.30pm |
| SATURDAY | 9am - 5.30pm |
| SUNDAY | 11am - 5pm |